Outdoor Blankets 101 - How to Choose and Care Tips
Whether you're going for a camping trip, a picnic outside or planning a beach day, an outdoor waterproof blanket is a great investment that keeps all obstacles away from destroying your fun!
It's nice and sunny outside; you decided to have a nice picnic in the park. Taking a normal blanket with you, you set out to the park. As you're laying down the blanket, you register the overcast. Nonetheless, you ignore it and start having fun. But then it starts to rain, and your precious blanket gets drenched, it gets heavy with water, and you can't carry it, and it's not easy to clean, which ultimately leads to ruining your day for good.
However, if you have the best outdoor blanket, you won't have to worry about that at all! An outdoor blanket that is portable, easy to clean, and above all, waterproof!
If you're looking for a detailed guide on the best waterproof blankets for your many outdoor activities, you're in the right place! Here, we'll cover some of the main tips on choosing the best outdoor blanket and help you find out ways to care for it!
Things to Consider Before Choosing Outdoor Blankets
●
Accommodating Space
Available in two sizes, these outdoor waterproof blankets cover your entire family with one blanket! If we consider the Tirrinia blanket, there are two sizes available.
If you want to cover 2 to 3 people with one blanket, then this size would be perfect for taking along with you. And if it's more people, you will have to take more than one blanket with you to accommodate everyone and keep them all safe from the cold!
If you're trying to cover more than 3 persons with one blanket, then choosing the first one might put you in some awkward situations where many blanket fights are bound to occur! The blanket will go from one end to the other throughout the night! To evade that, choose this 59x80 inches blanket that can easily accommodate more than three people.
Take some of these blankets and enjoy picnics with a bunch of your friends!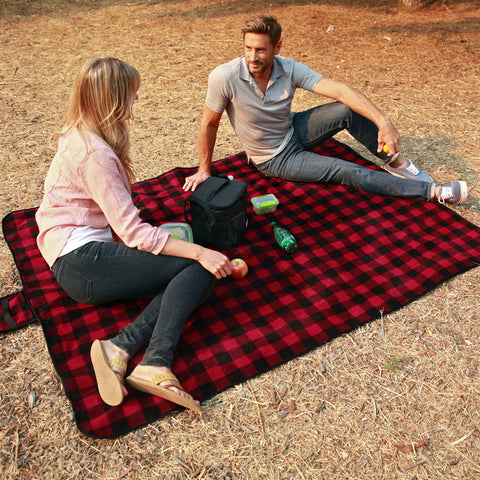 ●
Weather Conditions
Waterproof blankets are actually made to keep you safe and cozy in every weather. People don't usually consider the warm weather grounds for an outdoor blanket. However, when we say an outdoor blanket is going to be your best expenditure for all your adventures in the great outdoors, we aren't bluffing!
1.
Warm Weather
Any weather that goes above 60°F is considered warm weather. In this type of climate, you'll avoid anything that'll suffocate you by making you hotter than you'd appreciate. But let's not forget our warm weather friends, insects and mosquitoes that love us.
Insulation might not be your choice in this weather, making you think you don't need an outdoor blanket. But the protection Tirrinia blankets provide at night from getting you bitten red, and the awesome waterproof blanket features might change your mind!
2.
Cold Climates
Ideal for this climate, the outdoor waterproof blankets provide you with all kinds of protection. Any region with below 40°F is a cold zone, and you need a good blanket to keep the biting weather away from you!
You want to keep the cold away, get protection from the blowing winds, or the snow is trying to creep in, getting a Tirrinia waterproof blanket will have you covered. With its insulated insides, it keeps all the heat inside while keeping the cold outside, making you the most comfortable no matter if you're sleeping outside.
3.
Wet Atmosphere
Rainy weather is the best time to stay outside and have fun. Rainy seasons are many people's favorite. Even though it's damp all around, it still doesn't stop them from visiting the beauty of the outside. Don't cease your fun, let these Tirrinia waterproof blankets keep all the humidity and dampness outside the blankets, giving you the perfect excuse to spend longer in the beautiful weather!
Waterproof and insulation, what else do you need for ultimate protection?
●
Portability Aspect
One more thing that you should consider is its portability. One of the most difficult parts of carrying a blanket to and from your home relates to the blanket's portability. If you just pick up a folded blanket, it's always in the danger of unfolding in the way.
On a picnic or camping trip, you also have other stuff to carry, but if you have a handful of a blanket, then there's no space for other things! So, look for outdoor blankets that can be easily stored in a bag or could be folded into a carriable blanket. You can get these carriable yet light blankets at Tirrinia, their blankets are the ones I use, and they are quite light, awesome for all weathers and can be folded into a portable blanket that you can pick up with the handle everywhere you go!
●
Striking Colors
Picnic people are usually jolly people, and most picnics are on the fourth of July when people come out to watch the vast fireworks show! So, get the US colors in your blanket and show the national pride with Tirrinia Waterproof Picnic Blanket for your independence picnic!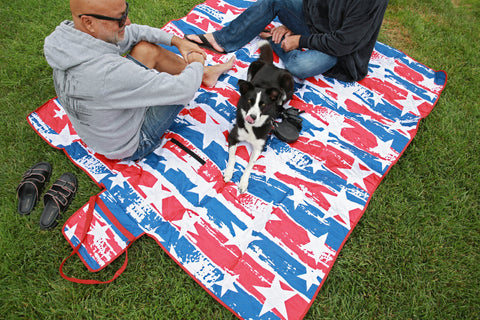 However, when you're shopping, you want something that looks good because, nowadays, almost everyone likes to capture their adventure moments on camera, so the colors that catch your eye and look awesome on camera should be your first choice!
Beautiful and attractive, we can effortlessly get some aesthetic shots all in one blanket!
●
Strong and Durable
If you and your family are accustomed to outdoor activities, then outdoor blankets are a must for all your adventures. But if you have to throw out the blankets after every outdoor venture, then you're just wasting your money.
With outdoor waterproof blankets, you'll not only save your money, but your investment will show you how you were throwing your money away every time you disposed of the low-quality blankets!
The waterproof blankets, especially the ones at Tirrinia are high-quality products that you can use for a long time, saving you from putting your money in the wrong place!
You want to go on an adventure, take the best-quality waterproof blankets with you to avoid any mishap!
Tips on Outdoor Blanket Care
Yes, you're buying the best waterproof blankets that ensure a long time of use, but if you don't take care of them, it's not going to give you the durability you want. To ensure that you get the best use out of the finest blankets, here are some tips that will help you keep it in top condition!
●
Prevent Storing When Damp
We all know that damp and moist surfaces support the growth of mold in unwanted places. So, if you forget your outdoor blanket in your car for hours after a rainy experience where you had to hastily pack up and rush home, you might be welcomed by some unpleasant sights when you unpack it the next time. Even if you wash it thoroughly, some stains might still get left behind, diminishing the quality of your blanket.
Another thing to look for or, more importantly, be ready for is the irksome smell that you're going to experience when you open a long-overdue damp blanket that doesn't go away for days! Therefore, the best way to keep your outdoor blanket in tip-top condition is to hang it on the washing line after every outdoor venture; when it dries completely, fold it and store it for your next time. To avoid such hassles, consider buying a Tirrinia Outdoor Waterproof Blanket that is easy to wash.
●
Get Rid of Any Stains or Spots
Most people ignore stains, thinking they'll get rid of them when they wash the blanket later on, but some stains decide to make a home in your blanket. So, if you get a small stain, wash the small area as soon as possible, but if it's a larger part, then try to clean it out as soon as you get home by soaking the waterproof blanket.
A clean blanket, a lifetime of quality guaranteed!
●
Manufacturer's Washing Instructions Keep it Alive
Every manufacturer provides details on how to wash their waterproof blankets, some cannot be dried on washing lines and some cannot be hand-washed. Complying with their instructions is the best way to keep your blanket in the best shape!
Fail to do so, and you'll be looking for a new blanket for your next trip!
●
Too Much Sun Exposure is Bad
Yes, hanging it to dry before storing it is a good way to keep your blanket in good condition, but if you don't want its fabric to wear out, you better take it off the line before it gets a heatstroke with too much sunshine exposure!
Anything, if provided in an excessive amount, always ends up destructive, so keep the Sun exposure to moderation!
Final Verdict
We're confident that now you know which waterproof blanket to choose when you're gearing up to go on your next outdoor venture. These are the things to consider when you're looking for a blanket in any climate that gives you the freedom to enjoy the activities and weather to the fullest!