Unique Ways to Use a Decorative Throw Blanket in Your House
So you are decorating your home and want to decorate it in some unique way? Then this time, let's throw out some new ideas! All ideas are available at tirrinia.us.
Decorating your home is not about only getting new furniture or applying different coats of colors to the wall. Make your home look stylish by using a throw blanket! Yes! Throw blanket not only give you warmth but also helps maintain coziness of your home.
When decorating your home, besides seasonal stems and throw pillows, be creative and decorate your home with throw blanket in unique ways.
From layering your bed or getting creative with a blanket on the table, in this article, we have shared many details about throw blankets that will help you style up your house with fluffy fringe, chunky woven and fun pom-poms textures. So let's get started!
●
Throw Blanket on Bed for Extra Layer of Warmth
Do you want to be warmer in winter? Then throw a blanket on the bed!
Fold the layers of the blanket neatly into third or quarters according to the size of the blanket. Create a luxurious look in your bedroom by laying down the blanket across the end of the bed and layers of bedding.
Clean and tidy lines of the throw blanket will beautifully contrast with variant colors and textures of other bedsheets and pillows. However, if you want to make your room less composed, then drape it loosely in the angle across the foot of the bed. Once you are done using it, throw it back on the bed!
●
Sleek on Your Couch With Throw Blanket
Sleek on your couch by styling up with a throw blanket!
Throw blanket provides you with an easy-going look that is extra inviting and cozy. If you want to see how these trends are becoming popular among people, visit any furniture store, and there you will see the throw blanket on almost every couch.
Toss the blanket and let it drape on the seat from over the back of the corner. Plop a few throw pillows on the top of the couch, and you are done with decoration. It also adds a layer of warmth, texture and casualness to your space.
●
Fold Throw Blanket in Basket
Another way to decorate your room is to fold the blanket into a large basket. This is ideal for decorative baskets placed on open console tables, front door, living room, or dining room. First, fold the slow blanket vertically into quarters. Next, fold the blanket and push the folded part into the basket so that the ends overlap. Make one side shorter than the other. Finally, put some pillows in the basket. You can add pumpkins, especially in the fall!
●
Style Your Chair with Throw Blanket
While decorating your room, how can we forget about chair decor? Now style your chair or armchair with a throw blanket! Pinch a side piece of throw blanket near the top corner. After this, lead your blanket on the couch or chair by the pitched area. Lastly, add throw pillows of different colors and enjoy a cup of coffee in a warm blanket!
Add a touch of homeliness with this Tirrinia Buffalo Plaid Sherpa Blanket. Made with super soft polyester material, this sherpa blanket not only looks stylish and elegant but it is also durable and easy to wash. What could be a better way to your room than this plaid pattern throw blanket!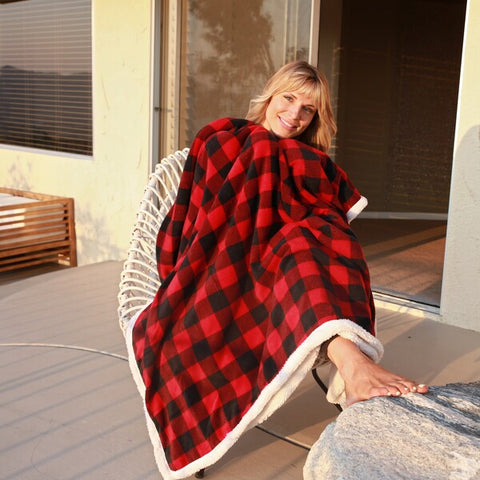 Why Everyone Loves Throw Blanket
A throw blanket may be the best gift no matter to whom you are giving it. Throw blankets are handy and lovely to look at. Following are a few reasons why throw blankets have become many people's choice and why you should also choose them!
●
Uttermost Comfort
Everyone likes extreme comfort, and there is nothing more comfortable as snuggling up on a sofa with a warm throw blanket. On a cool winter evening, not a single person would like to turn down a throw blanket, and it keeps you warm in a way that you will never like to come out of your blanket.
Perfect for both your bedroom and living room decor, this Knitted Tirrinia Sherpa Blanket is all you may need to feel cozy. What's more interesting? Made with 100% polyester, this throw blanket is double layered so you can reverse it to complement your sofa or bed.
●
The Size that Fits All
When you try to buy clothes or shoes for someone, you know how it becomes daunting for you to figure out how it will fit. Any time you make a wrong choice, it becomes useless! And it becomes the most awkward situation when the gift is opened. But with a throw blanket, you will never be embarrassed because Tirrinia offers it in various sizes that fit all!
●
Versatility
There are a few versatile things in our home, and one of them is a throw blanket. It serves you various purposes, as a comfy playmat, you can cover your furniture with it, it acts as a decoration, and the list goes on.
●
Style and Function in One
Throw blankets are more than just a practical product. They're also a great way to add some personality into any space. Do you want to make your couch a little more interesting? Cover the backrest with a throw blanket. You want to spruce up your bedding without spending money on a new comforter set. Place a folded throw blanket at the foot of the bed. Trying to make a plain chair more interesting? Cover the armrest with a throw blanket!
●
Gives Your Room Patriotic Vibes
Decorate your room with the same love as you do with your beloved country. Throw this USA Flag Knitted Blanket on couch or sofa and snuggle on it or to enjoy big games. This fleece reversible throw blanket comes with a perfect size so that you can use it wherever you want, be it a picnic, or at a movie theatre, this blanket will add fun as well as style to your occasion.
The blanket is large enough that you can wrap it around yourself also. The product is a super-soft feather blanket that gives a unique look to your room. You can use this high-quality blanket in all seasons because it doesn't shed and is wrinkle and fade resistant. It provides you with a rich velvet touch and lets you spend a comfortable and royal night daily, taking you in a sweet dreamland. You can also gift this blanket to your friends and family members on independence day.
●
Add Style to Home Space
Make your room look stunning with rich colors and exciting patterns of the throw blanket!
Decorate your living room with this bold blanket with fur pattern. It is durable, warm,  and it is perfect for snuggling up on the couch with your favorite book or watching a film with your children.
After a long tiring day, this blanket will be the first thing you want to grab. It is made from high-quality polyester, this super microfiber velvet is reversible to a faux-sheepskin throw blanket, offering your relaxing coziness and warmth.
It has an optional size 50" x 60", perfect for sofa, bed, couch, home decoration and camping. Either wash it by hand or in a washing machine; it is easy to clean with a gentle cycle. Moreover, it is also a perfect gift for your babies, toddlers, kids, or friends.
●
Comfy Life Partner
Get Tirrinia Buffalo Plaid Sherpa Blanket and Throws and say goodbye to the cold feet! It acts as your comfy life partner!
It has a delicate texture with red and green buffalo plaid printed fleece on each side and fluffy warm on the warm side, allowing you to enjoy warmth and comfort all year round!
It is suitable for teens, adults, kids and toddlers because it is size 50" x 60". You can easily wash it by hand in cold water, but avoid tumble dry. You can give them to anyone as birthday gifts, thanksgiving day or Christmas.
●
Provides You Warm Night and Chilly Morning
Decorate your room with this Silky Soft Chevron Sherpa Throw Blanket is silky, cozy, light way, smooth, breathable, and perfect for snuggling or wrapping while watching television, lounging on a bed couch or sofa. This blanket keeps you warm overnight and allows you to have a chilly morning while wrapping with it. You can also take it outside for camping, sports events or traveling.
This excellent comfy, plush ultra-soft Throw blanket is made from micro flannel fleece in chevron sample on one side, white Sherpa at the flip. Standard throws measured using 50x60 inches make a fantastic present for everyone. It is easy to care for, friendly washer in water, durable and pill-resistant. You can use it in all seasons!
Wrapping Up
All in all, a throw blanket offers more than just warmth and splash of color to a room; it also adds texture, which is essential in interior design. With so many alternatives, you're likely to discover a throw blanket that matches a person's home decor taste, whether it's ultra-modern or traditional.