Discover the Best Wine Country, Experience California: Napa Valley
Even if you don't remember much about the movie, you can't deny that you recall one of the most popular images in history. This image served as Windows XP's desktop wallpaper, and both the picture and the movie "A Walk in the Clouds" were taken in the well-known Napa Valley in northern California.
History of Napa Valley
Possibly the first vines were planted in the 1,800 acres of property Joseph Osborne dubbed Oak Knoll in the 1850s, marking the beginning of Napa Valley.
The original vineyard has been divided and re-divided numerous times over the years, but it has given rise to several of the valley's top tableland vineyards. George Calvert Yount deserves the most of the credit for establishing the first vines in Napa, nevertheless.
Since California had not yet become a state and was still a part of Mexico, George C. Yount first started farming property that had been given to him by the Mexican government. In Northern California, vineyards were first planted by George Calvert Yount in 1836.
The Napa Valley appellation is situated in the northeastern portion of the San Francisco Bay area, on the north side of San Pablo Bay. The Mayacamas to the west and the Vaca Mountains to the east surround it. The three components that make Napa Valley a world-class winegrowing region are climate, geology, and geography. In a hot valley, the fog that drifts in from the bay acts as a moderator, adding a touch of chill that gives the grapes crisper acidity and helps the wine develop richer flavors, structure, and balance. Although the higher portions of the valley are out of the reach of the fog, the cooling influence of the high altitude nevertheless preserves the balance of the vines. The Napa Valley also boasts a varied topography and a variety of microclimates. The famed and well-known premium red wines from Napa Valley are the consequence of the region's distinctive mesoclimates and microclimates.
Napa Valley Wine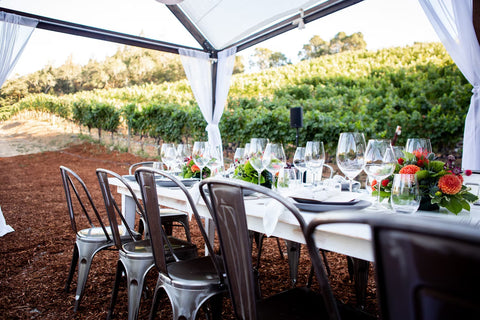 Cabernet Sauvignon, a red grape variety that is unquestionably the star of Napa Valley, has become the most extensively planted grape in the region because to the Napa Valley Cabernet Sauvignon wines, which became an instant hit after the Judgement of Pairs, and the pricey, limited-production Cult Wine.In the early twenty-first century, Merlot was one of the most popular wines in the world. Merlot was popular at events, pubs, and restaurants during that period.
Only a small part of the Napa Valley's vineyards are dedicated to producing zinfandel, but it nonetheless plays a significant role in the region's wine industry. The slopes above the valley level offer the ideal amount of this warm, dry climate, which is perfect for Zinfandel (a well-known California wine varietal), especially on rocky, free-draining slopes.
Chardonnay is the most popular white grape varietal in the Napa Valley. Of the three main grape varieties grown in the Napa Valley (Chardonnay, Merlot, and Cabernet Sauvignon), Chardonnay provides winemakers with the most flavor variety options. Old oak barrels, new oak barrels, and American or French oak barrels can all be used to make chardonnay. Additionally, either batonnage or malolactic fermentation can be used to create chardonnay. Chardonnay wines made using these two techniques have various tastes. As a result, various vinification techniques result in various Chardonnay wine styles, ranging from fruity and creamy to crisp and elegant with a strong oak taste. Because Chardonnay favors cooler weather, full-flavored Chardonnay grapes can be grown in mountain vineyards.
Making of Wine
Fruit from Mt. Veeder is renowned for having strong tannins, which produces wines of distinction that can age. Wood spice, vanilla, and caramel from the new oak frame brighter red fruit, headed by wild mountain raspberry, vivid cherry, and darker fruits like blackberry. The gripping tannins give way to a wine with superb structure and balance, strong acidity, and a bright finish that lingers. The wine is wild yet polished. Over the coming ten years, this will continue to change and become clearer.
Wines that are uniquely made and exquisitely created are available from Sterling Vineyards. Wines from Sterling Reserve showcase the Napa Valley's breadth, power, and extraordinary diversity. The Sterling winemaking and winegrowing teams' passion projects are these handcrafted, small-batch wines, and they only use the finest Napa appellations and renowned vineyards to produce them. The richest, most intricate, and intriguing varietal expression is a Sterling Reserve wine.
Each year, 10% of the proceeds from Briar Rose Winery's We Remember wine—which is produced in recognition of those who have served our nation as veterans—are donated to the Veterans Research Alliance. The wine has a characteristic red Bordeaux wine structure and has delicate tastes and aromas. The wine has a thick, robust tannic finish and aromas of raspberry and blackberry fruit blend with hints of mocha coffee and vanilla.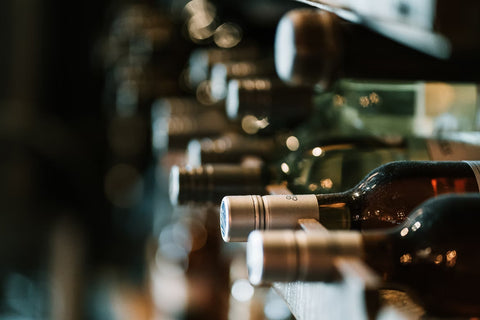 Traveling with a wine travel bag is advised
It would be a complete shame to visit a place recognized for its wine and not bring back as many samples as you can.
Wine travel bags can be incredibly useful in each of these scenarios. You are aware that moving any liquid can be challenging at best. The last thing you want is for that excellent wine to end up spilling all over your luggage, so there's always the concern that the bottle will get destroyed. Fortunately, Tirrinia can provide you with comfort if you want to transport wine.
When selecting a wine travel bag, there are a few things to consider.
You are not the only person who enjoys traveling and drinking wine. As a result, there are numerous options for wine travel bags as well as various sorts to take into account. The following considerations should guide your decision.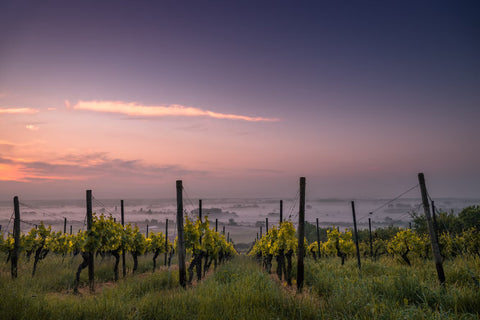 Wine Bottle Carrier Features:
Protection: Two wine bottles are kept apart and kept from falling into one another by the inner padded partition. Additionally collapsible, the wine bag can be used to transport beer, water, or other beverages in an insulated cooler.
Purpose: Will you store your wine in your carry-on or in your checked bags? You must also choose whether or not you want the bag to be insulated. When transporting chilled wine and planning to enjoy it right away, such a wine carrier is fantastic, but this isn't always the case. So, in order to select the ideal goods, you must make these decisions and more.
Capacity: Finally, you should also keep in mind the number of bottles you plan to transport. Bigger bags are not always better, as they take up more space, which is usually very valuable when traveling.
Wine Bottle Size:
The wine carrier tote is 8.3" x 3.8" x 13" (L x W x H) and has enough room for two standard-sized wine bottles.
As was already said, there are several sorts of travel bags to suit various demands. It's reflected on our list. As a result, the first bag we describe is not inherently superior to the one that comes next. The one that is best for you will depend on your individual needs because they are all unique. However, they are all wise decisions.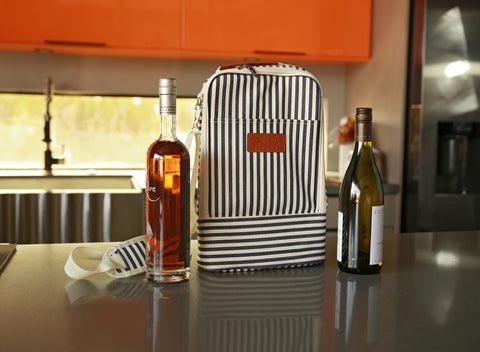 The wine carrier tote is a must-have if you enjoy drinking wine and want to take it outside, such as to BYOB restaurants, friend's house parties, wine tastings, park picnics, cruise ships, or when you travel. The wine tote is appropriate for wine lovers of all ages thanks to its stylish appearance and useful construction. on any special occasions or holidays, such as birthdays, marriages, Christmas Day, or Thanksgiving Day, for your families, friends, girlfriend, and coworkers. Liquid cannot pass through the leakproof inside and sully the wine carrier tote. 2 bottles of wine are protected from external impact by PU thermal insulated material and 5mm PE foam padding, which keeps the wine in perfect condition for hours.
Bring the flavors you've enjoyed on your vacation home with you so you may experience the beauty of your travels whenever you want.