Best Kids Lunch Bags for Back to School
We all know back-to-school season is here. And you probably have been searching for the year's best lunch bags or cool backpack to help your little one feel like a 5-star on their first day of school. We've got you covered with our list of top picks for kid's back to school lunch boxes that your child will actually use.
How to choose the best lunch bag for your child
When you are buying Lunch Bag for Kids, there are very many things you should consider. In fact, they will determine whether you will be happy with it or not in the long run.
Here are some suggestions on choosing the best lunch bags for your kids.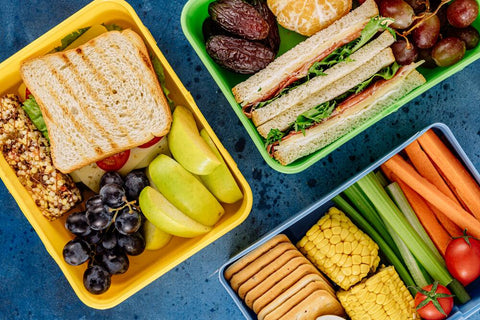 #1 - First, consider the size of your child
You don't want to get a lunch bag that's too small or too big — you want it to fit comfortably around their body. A large bag might be great for an adult who wants to take everything they need with them, but it might be too big for a kid who just needs a few snacks and an insulated beverage container. Look at the dimensions of each bag before choosing one, especially if you're shopping online and don't have an opportunity to try it on first.
If you have a small child or one who doesn't eat much at lunchtime, a small lunch bag might be more appropriate. On the other hand, if your child is known to bring home leftovers from school or if they have long-lasting snacks such as granola bars or water bottles, then a larger bag will do better.
For kids in elementary school, a medium-sized backpack might be best. In middle school or junior high, you may want to choose a larger backpack from which they can keep their books and other items inside.
#2 - A well-insulated lunch bag will help keep food at a safe temperature
An insulated lunch bag is a must-have for keeping your child's lunch cool and fresh. Not only do the best-insulated bags keep their contents cold, but they also come with several features that make them easy to carry and use again and again.
If you're packing sandwiches or other foods that need to be refrigerated, look for a lunch box with insulation that can keep things cold for several hours. And if your child is packing hot meals, look for a lunch box with insulation that can keep things hot for just as long.
#3 - The bag should be washable, durable and easy to clean
The best lunch bags are the ones that can withstand the abuse that comes with school-aged kids. They should be washable, durable and easy to clean.
The best material for a lunch bag is nylon or TPU (thermoplastic polyurethane). The reason why these materials are ideal is that they are both super durable and easy to clean.
If you're looking for something more eco-friendly, there are some options out there that are made from recycled materials like paper or even bamboo.
If you want something that will last for years to come, look for something that has double stitching and reinforced seams along with a water-resistant coating on the inside of the bag.
If you want a bag that will hold up even if it gets wet, look for one with an extra layer of protection against moisture.
#4 - Choose a large enough bag to carry food for morning and afternoon snacks and lunch
You'll want to choose a lunch bag that's large enough to carry all of your child's snacks and lunch. The size of the lunch bag will depend on how much food your child needs. If have a grown-up child, you may want to find a bigger bag.
If you're looking for something smaller, there are mini lunch boxes that are perfect for younger children.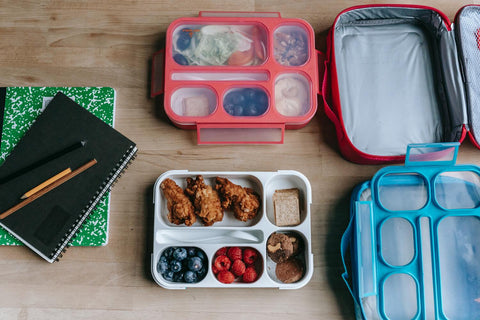 #5 - Make sure your child's lunch bag is functional for them
One of the most important things to consider when choosing a lunch bag is how functional it is for your child. Your kid needs a lunch bag that will keep their food cold and safe from spills, but it's also important that they can easily open and close the bag themselves.
#6 - Make sure your bag accommodates an ice pack
If your kid loves cold lunches, make sure the bag has enough room for one or more ice packs. The last thing you want is for your kid's food to get ruined because he forgot his ice pack at home!
You'll need a dedicated space for the ice pack and its accompanying dry ice. This way, it won't leak onto other items in the lunch bag if it shifts during transit.
Ice packs will keep food fresh longer and reduce the risk of spoilage. It's also important that the bag is insulated so that heat doesn't escape from the contents inside.
#7 - Try to avoid designs with a lot of pockets
A lot of lunch boxes come with a huge variety of pockets and compartments. While this can be great for adults who want to carry their cell phones and water bottles, it's not so great for kids. It's easy for them to lose track of items like toys or water bottles in the recesses of the bag, especially if they are still learning how to keep their belongings organized.
In most cases, you should look for a lunch box that has one large compartment with a lid on top and nothing else. This makes it easier for your child to find what they need when they need it.
Best Lunch Bags for Kids
Finding the best lunch bags for kids can be a daunting task. From style to quality to price, there are many different aspects to consider. Here are the 3 Best Kid's Bags for School Lunches that can be ideal for your kid.
Tirrinia mini lunch bag
The Tirrinia mini lunch bag is a great option for kids who like to bring their own lunch to school. The bag measures 7-inches tall by 5-inches wide, which makes it small enough to fit into a backpack or other bag without taking up too much space.
The bag has a zipper closure and is made with durable nylon fabric that can hold up against spills and wear and tear. It also has an adjustable shoulder strap so your child can carry it over their shoulder or attach it to a backpack. The strap is made from nylon webbing material that's comfortable enough for kids to wear all day long.
The Tirrinia mini lunch bag is a great choice if you're looking for a stylish lunch bag that's also practical. It has an insulated interior and a built-in bottle holder, so your child can eat their lunch and drink it too. The bag is made from polyester material, which means it's easy to clean and easy to roll up when not in use.
The Tirrinia mini lunch bag comes in several different colors and patterns, so you're sure to find one that suits your child's style. This is an excellent choice for kids who want something cute and fun, but who also need something that will keep their food fresh and cool all day long.
This little cute lunch bag can hold up to 3 cups of food, which is more than enough space for most kids' lunches. The only downside is that it doesn't have any pockets inside for storing utensils or other items that might be needed on your child's journey to school or work.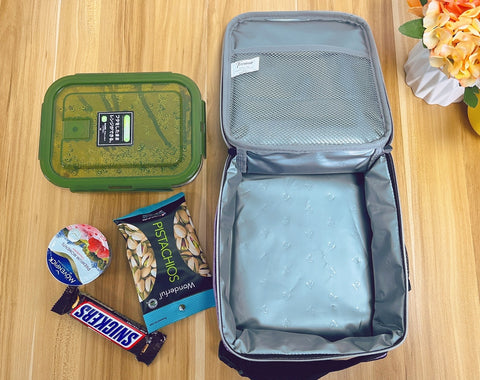 Tirrinia expandable lunch bag
Tirrinia expandable lunch bag is a great choice for parents who want to keep their kids fed while they're at school. It's made of high-quality materials and features a zipper closure that keeps the food inside safe from prying fingers. This bag has multiple compartments, so you can store fruit or other snacks in separate areas.
The material is water-resistant, so it won't get damaged if your child accidentally spills some water on it during the day. The material also resists stains and odors, which means it will stay looking new for years to come!
The Tirrinia expandable lunch bag features an adjustable strap that allows you to attach it easily to your child's backpack or other bags. It also comes with an insulated interior compartment that keeps food fresh even when it's been left out all day long!
This product is available in several different colors, so make sure you select one that matches your child's tastes and preferences before ordering!
This lunch box has an expandable zipper so it can fit larger items like fruit or juice boxes without having to worry about them not fitting in the bag. If you have trouble finding one that will fit everything you need, this is a great option because it's designed to accommodate all types of containers and sizes.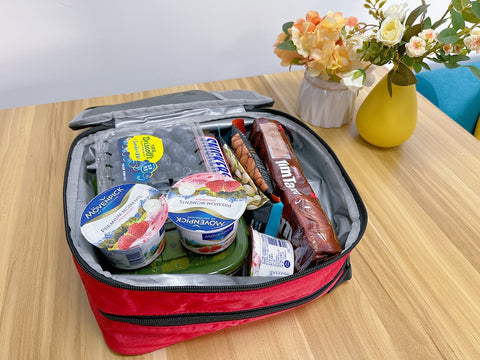 Tirrinia large lunch bag
Tirrinia is the leading company when it comes to making high-quality school bags. The Tirrina Large Lunch Bag is no exception. This lunch bag is made of durable, water-resistant nylon and features a stylish design that will make your kids feel special. It has two side pockets for storing snacks or drinks, a front pocket for keeping utensils, and a large main compartment that fits even the largest containers.
The Tirrina Large Lunch Bag comes in several colors so you can match it with your child's backpack or uniform. It also has an adjustable shoulder strap that makes carrying this bag easy on your back and shoulders.
This lunch bag has plenty of space inside, which makes it ideal for kids who like taking their entire meal with them to school every day.
These Tirrinia Lunch Bags has two insulated compartments that keep food cold throughout the day. The bottom compartment can hold up to six cans while the top compartment will hold four cans plus other items such as sandwiches, fruits and vegetables. This makes it easy for you to pack all types of food for your child's lunch without worrying about them getting soggy or warm before they eat them at school.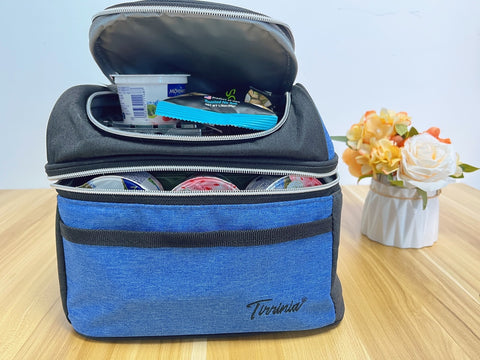 Finding the best school lunch bag can be a challenge. There are plenty of options out there, and it's easy for parents to become overwhelmed. The key is to find one that works for you and your child. We hope this article helps you do just that.