Why Is A Blanket Hoodie Better Than A Blanket?
Winters are just around the corner, which means chilly days and super cold evenings. To be honest, winters come as an excuse to procrastinate. But in reality, you can't just stop doing everything. 
While staying in the blanket isn't always the option, a blanket hoodie comes to the rescue. Yes, you read that right! The blanket hoodie is a thing. Well, it means no more carrying the bed blanket all over in the house when you can have the blanket hoodie in your size by Tirrinia.
What Is A Blanket Hoodie?
The term blanket hoodie is pretty much self-explanatory. It is an oversized sweatshirt with a hood lined with super soft fleece that gives it a blanket feel. Blanket hoodies are ideal for winters and come really handy. Not to forget, they are warm, cozy, and comfortable.
A blanket hoodie might be a strange concept to you, but for people who have always dreamt of carrying their blankets everywhere, it's a dream come true.
You might not know, hoodie blankets become the next big thing? Well, we really do vouch for it!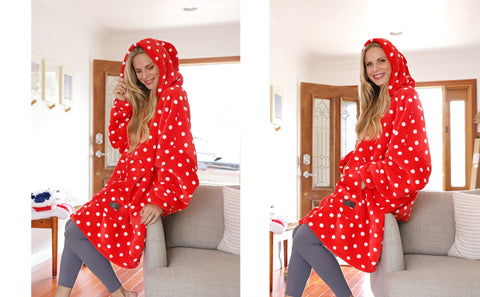 Why Are Blanket Hoodies Better Than Blankets?
Let us see why blanket hoodies are better than blankets and why you should get yours from Tirrinia.
1.
They Keep You Warm Everywhere
Blankets are gigantic, and sometimes, they are in for the double bed that cannot be lifted easily. And despite wanting to take your blankets with you when you wake up to prepare your coffee, you simply just can't. But guess what? That won't be an issue if you get yourself a hoodie blanket. The reason is, all you need to do is wear and roam anywhere you want. The fact that the blanket hoodie from Tirrinia is soft and lush from the inside adds to the extra warmth. 
Tirrinia blanket hoodies are ideal for you in winters to keep you warm irrespective of where ever you are in the house. This means the blanket warmth is not confined to the bed only. All thanks to the blanket hoodie!
2.
Perfect For Staying Cozy In The Evenings
Evenings, specifically, is the one time of the day where you feel cold the most. While you might be thinking that it was just you, it happens with everyone. But that won't be the case anymore when you would have your forever buddy- a blanket hoodie.
The oversized fit, the soft fleece inside the hoodie, and the warm fabric of the blanket hoodie by Tirrinia is a perfect way to spend your chilly winter evenings while staying warm and homey.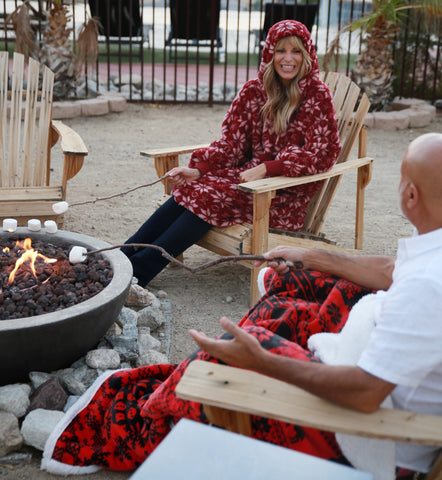 3.
Outdoor Chilly Events 
Remember the times when all of us had to refrain from stepping out of the house in the evenings because the weather was way too harsh? Also, when would you rather sit inside the house near the furnace and would give up on the idea of the bonfire with friends and family? Well, a blanket hoodie can help you make the most out of winter shenanigans. 
This means, after wearing the blanket hoodie, you will have no excuse to ditch the outdoor plans. Be it coffee at the terrace, a bonfire in the yard, or just the sky staring at night. 
In fact, with a blanket hoodie, you won't get affected by the negative temperature and can have your fun the way you used to. Also, don't forget to grab yourself a warm beverage with you.
4.
The Hood Keeps The Head Warm 
Are you still wondering that how the blanket hoodie is better than a blanket? Well, does a blanket ever covers your head without blocking your eyes and nose? No! 
Let's be honest here: how often have you tried to cover your head with the blanket to ensure your entire body is covered but not the face? We'll tell you a million times! But the sad reality is that we all have barely passed at it yet. 
That's exactly where the blanket hoodie by Tirrinia comes to your rescue. The oversized nature of the blanket hoodie ensures that your body is covered. The hood keeps your head warm, and it has pockets for the hands to ensure that they don't go cold.
Another amazing thing about a blanket hoodie that adds up to the point of it being better than a blanket is the despite the portable nature, you can make the proper use of it. For instance, while you are sitting, you can snuggle your feet and legs inside the hoodie, and it serves the purpose of the blanket or better.
5.
You Can Get The Work Done
Be it preparing food in the kitchen, cleaning, making a cup of coffee, or getting work done on the laptop, you can do it all while being warm and cozy wearing a blanket hoodie.
Let's talk about working on a laptop while being in the blanket on the bed. Getting the work done is barely possible. Also, no matter how much you try, one of your body parts is always uncovered. The best thing about a blanket hoodie is that it won't be the case with that.
Apart from binge-watching your favorite shows sitting in the lounge, you can do anything while wearing a blanket hoodie.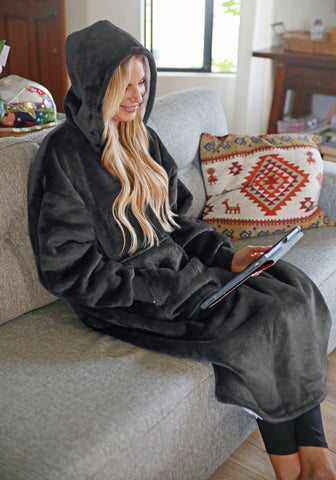 6.
Easy To Clean
How many times have you vanished the thought of cleaning your blankets? We know, always! The reason is, they are so massive, heavy, and filled that it's not only difficult to carry them here and there during washing. But, it takes many days to get it dried completely. 
However, that won't be the case with a hoodie blanket. All you need to do is throw it in your washing machine and then tumble dry. There you have your blanket hoodie, super clean in a hassle-free process.
Why Blanket Hoodie Is A Good Choice?
1.
They Are Versatile
You won't agree on this fact more than blanket hoodies can be worn anywhere. Be it a lazy evening at home, getting work done, chilling out with friends, camping, or for a stroll at night, a blanket hoodie comes handy while providing you the warmth and coziness. The fabric of the blanket hoodie by Tirrinia is also very soft since it is made of soft polyester fleece, which means no discomfort or harshness that is usually the case when you wear coats or sweaters.
2.
They Make Perfect Gifts
Winters are coming, and so are the winter events. Christmas is around the corner, and New Year's evening too. With so many events lined up, you have to think about buying the best gifts for everyone. But with the blanket hoodie, you get an option of buying and gifting it to your loved ones. They will love it due to the warmth it will provide, it will be weather appropriate, and because it would make such a thoughtful gift.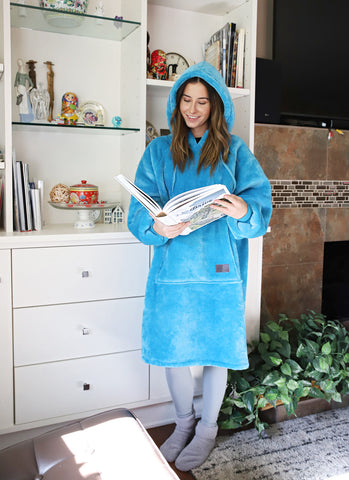 3.
One Size Fits All
When placing an order online, one always worries about getting the wrong size. But with a blanket hoodie by Tirrinia, you are sorted because it is oversized, and one fit will fit all.
Blanket Hoodie By Tirrinia
At Tirrinia, we have a vast collection of blanket hoodies for all the people who want to indulge in winter activities yet stay warm. Winters are freezing, and at times even coffee or any other warm beverage doesn't help. Moreover, despite the negative temperature, all of us love the idea of a cool winter breeze hitting our faces. So, at Tirrinia, we have come up with blanket hoodies so that you don't have to give up on your winter funs. But why Tirrinia?
Our blanket hoodies come in various colors. You can choose any color or style you want. Blanket hoodies, paired with a nice pair of joggers and turtle-neck beneath, can be made a fashion statement too. See, here is another reason why blanket hoodies are better than blankets!
Also, you stay warm and cozy all the time. At times, the sweaters, coats, cardigans fail to keep you protected against the chilly winter winds blowing all the time. And that's where the blanket hoodie will become your best winter buddy.
Be it a lazy day or a busy day; a blanket hoodie fits in every situation seamlessly.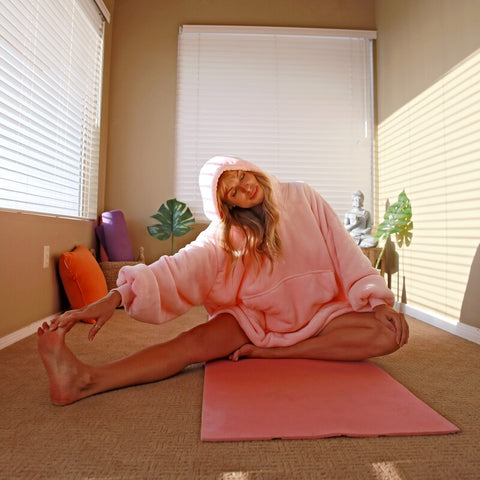 In Conclusion 
Winter is approaching, and while all of us are deciding to stack up on winter essentials, the blanket hoodies seem like a must now. The reason is, you can wear layers and layers of clothes in winters, but then you are unable to function and perform activities properly. Some of the clothes are so discomforting that you barely feel like moving. The blanket hoodie is the complete opposite of this. In fact, it is comfortable and, above all, keeps you warm and snuggled all the time. It's ideal for winter evenings, nigh outs, bonfires, camping, and whatnot. 
Also, you have now seen that why it is better than the blanket too. It's surely a nice investment to make in your winter closet; you won't regret it.
Stay warm and cozy all the time without staying in bed; get your hands on the Blanket hoodie now!