Holiday Gift Ideas In 2020
Gifting your loved ones is the best feeling. It helps you express your love, gratitude, and endearment and makes you feel glad to have made them happy. But what makes the best gifts for your friends and family?
 If you are tired of surfing the internet for gift items to impress one and all, you have arrived at the right place. Here is a list of the best gift ideas in 2020 to make your year better.
 Scroll down to find the best items that suit most occasions like birthdays, anniversaries, housewarming, get-togethers, Christmas, and Thanksgiving.  Buy something nice for the special people in your life regardless of the event.
 The best gift ideas of 2020 consist of items with great utility value, which will make the receivers feel great about them. Find the one that suits the occasion and purpose the best and spread smiles.
How To Choose The Best Gifts?
 Here are some steps to keep in mind while selecting gifts for people to make the best choice.
While choosing a gift, always focus on its utility. Ensure that the gift you select is of use and makes life convenient for the receiver. It is a bad idea to send gifts that have no practical use and pose problems like space crunch.
Beauty and aesthetics are the most critical points while selecting a gift. Whatever item of practical use you choose must look good. Impressing a person with the appearance of the gift is vital here. Whenever the receiver unwraps the gift, the beauty of the product must leave them pleasantly surprised and happy. For instance, if you choose a blanket or a rug, ensure that it has a beautiful color, print, or pattern to compliment the house other than being soft and warm.
Always keep the person in mind to whom you are presenting the gift. Make a list of the hobbies of the person and whatever they love. You may also think of what they would love to have or expressed a wish to purchase someday. Selecting your gifts from such thoughts would be the best way to communicate and leave them genuinely impressed.
Make the person feel good
The gift you select for the person must make him or her feel good. If you choose a lovely bottle of wine for a wine lover or a coffee table travel book for an avid traveler, nothing can make them feel better. The aftertaste of your gift should make the receiver happy, and its utility value should always please them whenever they use it. Gifting an exquisite assorted coffee mug set to a coffee-loving friend will remind him or her of you whenever they sit down to sip.
The Best Holiday Gifts List 
Browsing online through catalogues of gift items is boring at times. To make your job easier and helping you zero in on the right categories and products, we have a list of the best gift items you can buy.
Oversized Wearable Blanket Sweatshirt
Make yourself cozy with this stylish Oversized Wearable Blanket Sweatshirt this winter. It is the ideal thing to take along for travelling, vacations, or camping to keep you warm and comforted. You can also simply wear it around the house to remain warm even during the chilly evenings. 
 It is difficult to wrap around a blanket while you work in the house or on your laptop. The blanket sweatshirt just makes things easy by wrapping around the body, arms, shoulders, and your head, just the way you want. Keep your entire body warm with this pleasantly stylish blanket sweatshirt. 
 This ideal winter essential is made of microfibers and sherpa fabric to make it incredibly warm and soft. It is also very light and hypoallergenic. Just wear the oversized hoodie while camping, sipping your coffee outdoors, or watching your favorite game on TV. It allows you complete freedom of movement, keeping your hands free. Use the giant pocket to store your phone, remote, or some snacks. 
 Snuggling up hasn't been this easy and convenient ever. The stylish sweatshirt also makes a perfect gift for your friends and an extremely useful one too. 
Pros-
Very comfortable for winters. 
Convenient design.  
Keeps the hands free.
Huge pocket for storage. 
Provides incredible warmth. 
Cons-
Might be a problem for thin and short people. 
Sherpa Wearable Blanket For Adult
This Sherpa Wearable Blanket makes a beautiful birthday gift or Mother's Day gift to luxuriously snuggle in loads of warmth.  
Made from superwarm micro mink fleece, the wearable sherpa blanket is just what you need for extra coziness. It is impossible to work on the laptop, read a book, or talk on the phone while pulling the blanket around you. To make it easier and more comfortable, this wearable blanket wraps around your body like a robe. 
 Just wear this extremely soft sherpa blanket and keep your arms free. It will cover your arms and shoulders without slipping down. Now, when you watch the television, attend a phone call or grab a snack, the wearable blanket will keep you at your comfortable best. 
 Stay warm from head to toe with this ultra-thermal wearable Sherpa. The long sleeves keep you fully covered, and the front pocket can hold your cell phone. You can also slip your palms inside the front pocket to keep them warm while you enjoy your movie on the couch. 
 Isn't that a great gift for the wintry months? 
Pros-
Very convenient for winters. 
Super warm and comfortable. 
Keeps the hands free.
Does not slip off the shoulders. 
Very soft to touch. 
 Cons- 
Not available in many sizes for different heights. 
Plaid Sherpa Throw Plush Blanket For Bed And Couch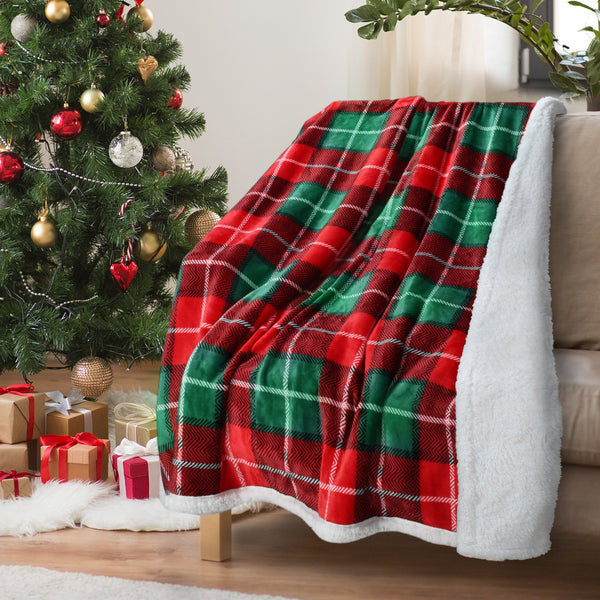 Spend the chilly winter months in warmth and comfort with the Plaid Sherpa Throw Plush Blanket for your bed and couch. The super-soft sherpa blanket makes a wonderful Christmas and Thanksgiving gift for your friends and family. Spread love and warmth this winter with this immensely elegant and comfortable blanket.
 The exquisite sherpa blanket is reversible and has sherpa lining and mink fleece on both sides. Made of 100% polyester, it is easy to maintain and is durable. You can easily carry this super-light blanket while traveling to take along the comfort of your home.
 Such a cozy blanket keeps you comforted during the cold Christmas night celebrations or in the evenings when you are camping with friends. It saves you from the biting cold and keeps you warm enough in all seasons. 
 Pros-
Super-soft blanket.
Very warm and comfortable. 
Lightweight and travel-friendly.  
Easy to clean and maintain. 
Comfortable in all seasons. 
Cons-
Might fall slightly short for tall people. 
Christmas Sherpa Throw Plush Blanket For Bed And Couch
The Sherpa Throw Plush Blanket for your bed and couch makes the best gift for a cozy Christmas. What can be more beautiful to deck up your house for the festival than this Christmas themed printed Sherpa. 
 Make your house look festive while doubling up your coziness. This also makes a stunning gift for your loved ones to spread warmth and beauty this Christmas. 
 Made of 100% micro-plush polyester, this super-soft and comfortable Sherpa blanket is also reversible. It has a Sherpa lining on one side and a mink fleece on the other. Beauty and comfort are the best features of this Sherpa throw that keeps you cozy throughout the year. 
 It is the perfect throw to keep you at comfort on cold nights on your couch while you watch a movie or read your favorite book. 
Pros-
Super-soft blanket.
Warm and comfortable. 
Reversible throw. 
Impressive Christmas themed prints. 
Lightweight and easy maintenance. 
Cons-
The quality and durability can be better than it is at present. 
Insulated Wine Tote Bag - Travel Padded 2 Bottle Wine Cooler Bag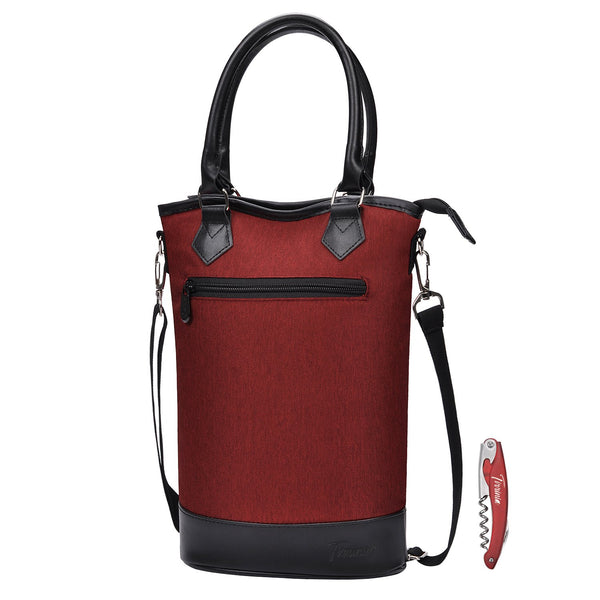 There isn't any gift better than a bottle of wine or a sassy tote bag to carry them. If your friends and family are great wine drinkers, this would be the best gift for them.
 Here is this 2-Bottle Insulated Wine Tote Bag that acts as a deluxe travel carrier for your favorite wine bottles. Carry your drinks along to any party, social gathering, or to relax on the beach in this smart and convenient carrier bag. 
 The best part of this 2-bottle carrier bag is that it is perfectly insulated to keep your wines cool. The thick padding and the insulated shield protect the wine and keep it cold for long hours while you travel. The leather handle and the shoulder strap are sturdy enough to let you carry the bag conveniently. 
 The bag also has a padded interior divider to keep the two bottles safe inside without moving and clinking. This prevents your wines and champagnes from shattering inside the bag. 
Pros-
Spacious enough to hold two champagne or wine bottles easily. 
Well-padded interior divider.
Looks attractive. 
Comes with a cork screw opener.
Insulated material keeps wine cool for hours. 
Cons-
Could have been sturdier.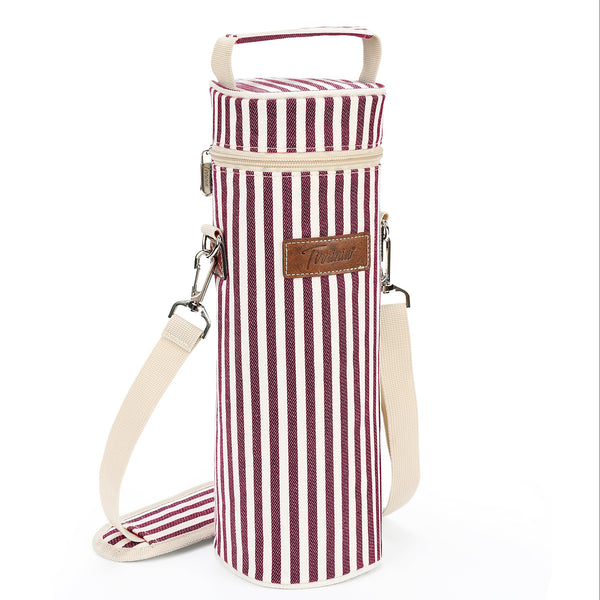 Here is the Tirrnia Single Wine Cooler Bag to carry your bottle with ease and style to a picnic, party, or beach. 
Take along your favorite wine bottle to any occasion in this deluxe travel carrier with an insulated body. The tote bag is made of 600D Polyester and has an aluminium foil lining to make it insulated enough to keep the wine cool. 
 The bag is easy to clean and has a sturdy shoulder strap to easily carry it. However, the inside material is not waterproof. Therefore, if you want to keep the wine bottle extra cool, you can use ice bags inside but do not directly put ice cubes. 
 The size of the bag is large and spacious enough to hold even the tallest wine bottles. 
It is the best gift item for a lovely Christmas dinner. The cute appearance of the sassy wine holder is surely going to impress.  
Pros-
Spacious enough to hold tall bottles
Sturdy material for body and strap
Impressive appearance
Keeps the bottle protected from bumps 
Insulated insides to keep the wine cool
Cons-
The extra room on top after stashing the bottle may make it look deformed. 
6 Bottle Insulated Wine Carrier Bag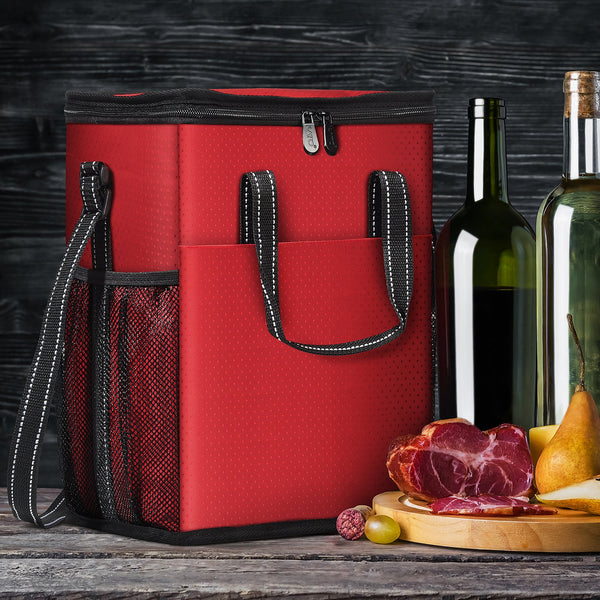 Our final pick is the 6 Bottle Insulated Wine Carrier Bag that makes a great gift for your wine-loving people. 
 This insulated carrier bag is light and durable. The compact design keeps your wine bottles safe and secure with its dual-zip closure system. 
 Made of 600D polyester, insulated PU material, and 5mm PE, the bag keeps the wine bottles safe and cool for a long time. There is also a thickly padded divider inside the bag to arrange all the 6 bottles. The detachable divider prevents the glass bottles from shifting and rattling, breaking them easily on a journey. Keep them safe with the padded divider holding them in their positions. 
 The bag's front pocket can hold small tools, paper napkins, or a few snack items. There are mesh pockets on each side for extra storage capacity. The handle is easy to grip, and the shoulder strap is adjustable to make it convenient to carry. 
 It is the best item to take along on a picnic, arranging your wine bottles, food, and paper napkins perfectly well inside. Such wonderful features definitely make this an excellent Thanksgiving gift. 
 Pros-
Insulated material
Detachable divider
Keeps the wine bottles safe and cool
Spacious pockets
Easy to clean
Cons-
Not very useful if there are less than 6 bottles. 
Conclusion
We hope you we could help you in having a clear idea of the best gifts to buy. Browse through the list of things we picked up for you and enjoy spreading happiness and warmth to your dear ones.